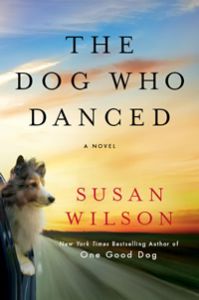 For all of you who have been asking about when the new book might be out, I am beyond happy to say that The Dog She Loved will be out in September of 2019. If that seems like a long while away, bear in mind that this one took me far longer to write--and get right--than any of my previous 10 books. I am so grateful to my amazing editor, Jennifer Enderlin, for her remarkable patience and belief in my work and willingness to let me take my time. I hope you will find that the wait was worth it.
Rosie Collins is a prisoner in the Mid-State Correctional Facility, guilty of voluntary manslaughter in the death of her controlling boyfriend. The only thing that makes her life worth living is having signed on to be a trainer of assistance dogs. Her first, Shark, a chocolate Labrador, holds an especially dear place in her heart and when Shark becomes the assistance dog for Megan Custer, a wounded veteran of the Iraq war, Rosie and Megan find themselves in an unexpected friendship. Rosie is imprisoned by her deeds; Megan by her own body.
An anonymous benefactor comes into Rosie's hopeless life and suddenly she is released from prison. She finds herself living in a tumbledown ninetheeth century house on the edge of Dogtown in Gloucester, overseeing its renovation. Dogtown, historically, was the home to the indigent and ouliers of Gloucester in the ninetheeth Century; widows, known for their keeping of dogs as companions and protection. The house is both a sanctuary and a challenge, but nothing is more challenging to Rosie than the continued estrangement from her family and the mystery of her new freedom.
Into this lonely place comes a dog like no other.