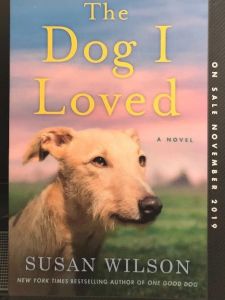 My dear readers,
Obviously the most important thing on anyone's mind these days is the COVID-19 outbreak. I wish all my readers, past, present, and to come, to please wash your hands, practice social distancing, and be mindful of other people's needs. This too shall pass, and what challenges us most makes us stronger.
With love, Susan
---
---
Dear Readers,
THE DOG I LOVED has enjoyed an incredible rollout and thank you to the bookstores, bloggers, radio interviewers and readers who have helped make this happen.
This was a tough book to write, filled as it is with fairly dark subject matter. At the heart of it is the healing power of dogs, and in this novel, there are two amazing dogs who intersect with two amazing women. Rosie Collins is four years into a 20 year sentence for manslaughter when she volunteers to train puppies as therapy dogs. Meghan Custer is a wounded warrior who is the recipient of Rosie's first trainee, a chocolate Lab named Shark. When a mysterious benefactor facilitates Rosie's release and then provides her with a job as a project coordinator overseeing the rehabiliation of an ancient house on the edge of Dogtown in Gloucester, everything in Rosie's life changes. Alienated from her family, perplexed by this sudden reversal of fortune, and reliving the tragedy that led to her incarceration, Rosie is befriended by a large gray dog, she names Shadow. Both Rosie and Meghan have to learn to trust and to love after the traumas that they have endured. The dogs are the key.
---
It doesn't get much better than an interview with The Ready Frenzy's incomparable reader, Debbie Haupt. Debbie's questions are so good that I have to confess to using them as a template for other book talks on The Dog I Loved. Wishing Debbie a quick and successful recovery from knee surgery. http://bit.ly/364eYfo
---
As I mention above , I've had the pleasure of doing three radio interviews, The first one, with Red Carpet Crash, is available via this link. http://redcarpetcrash.com/interview-author-susan-wilson-talks-her-great-new-book-the-dog-i-loved/
The second was with my old friend Tim Link at AnimalWrites which is available via this link https://petliferadio.com/animalwritesep151.html
Finally, I had the best time visiting with Laurel Redington at WMVY, our local and worldwide streaming radio station, for her Sunday program, Vineyard Courant. It was such fun to be face to face with Laurel and get to see how the magic is made. Here's the link. https://soundcloud.com/mvyradio/susan-wilson-dog-books-com
And if radio wasn't enough, I recently had the privilege of being interviewed for the Cape Cod Writers Center's program, "Books and the World" on Cape Cod Cable TV. This was such fun...and Alyssa Metcalfe made it feel like we were having a conversation in her living room instead of under lights and in front of a camera. If you want to see how the discussion of The Dog I Loved went, click here.
https://www.youtube.com/watch?v=rMwZVmyKN2M
---
As always, books are available at bookstores and on line at Amazon
https://smile.amazon.com/gp/product/1250078148/ref=pe_1884310_396515080_pe_re_csr_
Happy reading,
Susan
---
If you follow me on Stay Thirsty Magazine, here are links to the various editions.
https://staythirstymagazine.blogspot.com/p/wilson-dogtown-srong.html
https://staythirstymagazine.blogspot.com/p/wilson-movie-option.html
https://staythirstymagazine.blogspot.com/p/wilson-life-without-dog_20.html
https://staythirstymagazine.blogspot.com/p/readers-ask-susan-wilson_29.html
http://(http://www.staythirstymagazine.com/2017/04/spring-2017-vol.html).
http://www.staythirstymedia.com/201610-094/html/THIRSTY.html
http://www.staythirstymedia.com/201607-093/html/THIRSTY.html
http://www.staythirstymedia.com/201604-092/html/THIRSTY.html
http://www.staythirstymedia.com/201507-089/html/THIRSTY.html.
http://www.staythirstymedia.com/201601-091/html/THIRSTY.html