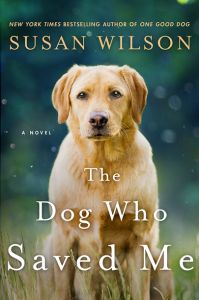 I am so pleased to have been invited to participate in a very special fund-raising event coming up in November, the Mission K9 Rescue Gala. The purpose of the Mission K9 Rescue organization is to bring awareness and raise money to support the Hero Dogs who have served our country and communities so bravely. The foundation provides monetary, transportation, adoption and medical assistance for retired military and contract dogs. What's very special about this group is that it also works to help military working dogs to reunite with their handlers when their service is done.
In A Man of His Own, my characters Keller and Pax were paired as handler and military working dog, or, K-9 Corp dog as they were termed in WWII. It is Keller's unwillingness to give up Pax at the end of the war that sets the scenario for the majority of the novel.
Here's a link to the webpage for this extraordinary opportunity to support the Misson K-9 Rescue efforts. I hope to see you there.
Take a look at my interview with Stay Thirsty on-line magazine. Enjoy! http://www.staythirstymedia.com/201507-089/html/THIRSTY.html.
My dear readers,
As I'm in a little bit of a hiatus, I've finally taken the time to revisit the FAQ section of this website. Oh boy.

I can't believe I haven't updated those questions since, well, since forever. So, if you've visited the FAQs before, take another look. And, if you haven't, please visit. And, especially, if there isn't at FAQ there that fits your particular question, please contact me and I'll add yours to the list.
Here's a link to my interview with Tim Link of PetWrites radio. Enjoy!
http://www.petliferadio.com/animalwritesep89.html
I love doing radio interviews!
Watch this space for news of more upcoming events.

Love and happy reading.....

Susan