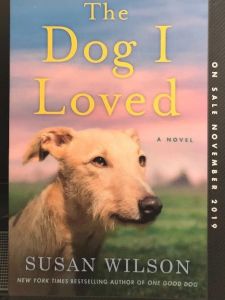 You're invited to "Our Holiday Book & Author Fair"
Drop by Brackett's Oceanview Restaurant, 25 Main St., downtown Rockport, on Saturday, December 7, from 12:30 to 3:30 p.m.
I'm pleased to join Literary Cape Ann and invite you to join me and 15 (or more!) of my fellow authors. Our books will be available for holiday gift-giving. Choose from New England history, mysteries, poetry, children's books, cookbooks, and much more. The best part is, if you buy a book you will be eligible to win one of three basket-of-books raffles. Tree lighting and Christmas carols follow in Dock Square. Refreshments available. And ​a very special thank you to Brackett's.
---
Dear Readers,
I'm delighted to announce that THE DOG I LOVED is now available. This was a tough book to write, filled as it is with fairly dark subject matter. At the heart of it is the healing power of dogs, and in this novel, there are two amazing dogs who intersect with two amazing women. Rosie Collins is four years into a 20 year sentence for manslaughter when she volunteers to train puppies as therapy dogs. Meghan Custer is a wounded warrior who is the recipient of Rosie's first trainee, a chocolate Lab named Shark. When a mysterious benefactor facilitates Rosie's release and then provides her with a job as a project coordinator overseeing the rehabiliation of an ancient house on the edge of Dogtown in Gloucester, everything in Rosie's life changes. Alienated from her family, perplexed by this sudden reversal of fortune, and reliving the tragedy that led to her incarceration, Rosie is befriended by a large gray dog, she names Shadow. Both Rosie and Meghan have to learn to trust and to love after the traumas that they have endured. The dogs are the key.
---
As always, books are available at bookstores and on line at Amazon and Amazon has kindly offered advance ordering for THE DOG I LOVED. Follow this link:
https://smile.amazon.com/gp/product/1250078148/ref=pe_1884310_396515080_pe_re_csr_
As promised, I've done a couple of radio interviews. The first one, with Red Carpet Crash, is available via this link. http://redcarpetcrash.com/interview-author-susan-wilson-talks-her-great-new-book-the-dog-i-loved/
In other news, here's this quarter's edition of Stay Thirsty on-line magazine, which is celebrating its 13th anniversary. Congratulations publisher Dusty Sang! This time I tell my story of how I came to have a TV movie made from my first novel.
https://staythirstymagazine.blogspot.com/p/wilson-movie-option.html
Happy reading,
Susan
___________________
If you follow me on Stay Thirsty Magazine, here are links to the various editions.
https://staythirstymagazine.blogspot.com/p/wilson-life-without-dog_20.html
https://staythirstymagazine.blogspot.com/p/readers-ask-susan-wilson_29.html
http://(http://www.staythirstymagazine.com/2017/04/spring-2017-vol.html).
http://www.staythirstymedia.com/201610-094/html/THIRSTY.html
http://www.staythirstymedia.com/201607-093/html/THIRSTY.html
http://www.staythirstymedia.com/201604-092/html/THIRSTY.html
http://www.staythirstymedia.com/201507-089/html/THIRSTY.html.
http://www.staythirstymedia.com/201601-091/html/THIRSTY.html